SPIRIT OF THE SONS OF GOD
In Today's lesson, we will look at how our Father, Yahovah decides who He will choose to become His sons (the sons of God).
How Yahovah Chooses His Sons
We will start with Romans 8:29-30. In this passage Paul takes us into the mind of God and reveals His sovereignty! Paul said: "29 For whom he did foreknow, he also did predestinate to be conformed to the image of his Son, that he might be the firstborn among many brethren. 30 Moreover whom he did predestinate, them he also called: and whom he called, them he also justified: and whom he justified, them he also glorified."

In Gal 4:6 Paul said that once Yahovah accepts us as His sons, then He will do the following: "And because ye are sons, God hath sent forth the Spirit of his Son into your hearts, crying, Abba, Father".
The apostle John said, "13 hereby know we that we dwell in him, and he in us, because he hath given us of his Spirit. (1Jo 4:13 KJV)
Yahoshua also said "If a man loves me, he will keep my words: and my Father will love him, and we will come unto him, and make our abode with him". (John 14:23 KJV)
The condition that must first exist for the Father and the Son to come and make their abode in that person is LOVE for Yahoshua. We find this in the first part of the verse 23, which says: "If a man loves me, he will keep my words: and my Father will love him,"
24 He that loves me not, keep not my sayings: and the word which ye hear is not mine, but the Father's which sent me. (Joh 14:24 KJV)
The apostle Paul said, "21 Now He which establishes us with you in Christ, and hath anointed us, is God; 22 Who hath also sealed us, and given the earnest (deposit or guarantee) of the Spirit in our hearts. (2Cor 1:21-22 KJV). The word earnest refers to a deposit (like earnest money) which is a guarantee that you will deliver the balance later.
5 Having predestinated us unto the adoption of children by Jesus Christ to himself, according to the good pleasure of His will, 6 To the praise of the glory of His grace, wherein He hath made us accepted in the beloved 7 in whom (ie Yahoshua) we have redemption through his blood, the forgiveness of sins, according to the riches of His grace; (Eph 1:5-7 KJV).
These verses are talking about the works of Yahovah and Yahoshua working together to accomplish the Father's purpose in us.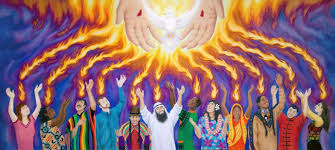 Eph 1:14 Paul also said this a different way, "Which is the earnest (guarantee, deposit, down payment on) of our inheritance until the redemption of the purchased possession, unto the praise of his glory.
So far we have established that the Father is judging the hearts of those who say they love His Son. If He judges and does not find the love for His Son, which He is looking for; and that the love is not present, then He will not give the earnest (deposit) of the Holy Spirit (the Spirit of His Son) in that person's heart. Thus He and Yahoshua will not make their abode in the heart of that person. And the Father will not seal that person unto redemption, because it is the receiving of the Holy Spirit of God through the baptism of the Holy Spirit and Fire, which Yahoshua gives, that seals us as the sons of God unto redemption.
The key then is to establish our love relationship with Yahoshua. Not Love from the mouth but love from the heart, which leads to obedience. And the prescribed way to do this is to keep the commandments of God, which Yahoshua taught.
In Rev 12:17 we read: And the dragon was wroth with the woman, and went to make war with the remnant of her seed, which keep the commandments of God, and have the testimony of Yahoshua, Messiah.

Coming of the Holy Spirit
When Yahoshua told his disciples about the coming of the Holy Spirit. He said,
Yahoshua also said: "If ye love me, keep my commandments and I will pray the Father, and he shall give you another Comforter, that he may abide with you forever; 17 Even the Spirit of truth; whom the world cannot receive, because it sees him not, neither knows him: but ye know him; for he dwells with you, and shall be in you. (Joh 14:15-17 KJV).
26 But when the Comforter is come, whom I will send unto you from the Father, even the Spirit of truth, which proceedeth from the Father, he shall testify of me: 27 And ye also shall bear witness, because ye have been with me from the beginning. (Joh 15:26-16:1 KJV)
Yahoshua explains what to expect when you receive the Holy Spirit: "But the Comforter, which is the Holy Spirit, whom the Father will send in my name, he shall teach you all things, and bring all things to your remembrance, whatsoever I have said unto you. (Joh 14:26 KJV)
John 16:13 However, when the Spirit of Truth comes, he will guide you into all the truth; for he will not speak on his own initiative but will say only what he hears. He will also announce to you the events of the future (prophecy).
"But ye shall receive power, after that the Holy Spirit is come upon you: and ye shall be witnesses unto me both in Jerusalem, and in all Judaea, and in Samaria, and unto the uttermost part of the earth". (Act 1:8 KJV)
But as many as received him (Yahoshua), to them gave he power to become the sons of God, even to them that believe on his name: (Joh 1:12 KJV).
On the day of Pentecost, Peter delivered the gospel message with power. So did Steven and Paul. As a result, they were told to stop preaching in the name of Yahoshua, and as more people believed, received the baptism of the Holy Spirit and Fire from Yahoshua with the evidence of speaking in tongues, and more miracles were done through the name of Yahoshua, their persecution increased and became more severe unto death.
Here they received the spirit of Yahoshua through the baptism of the Holy Spirit and Yahovah sealed them to become sons of God. Then they received power to be witnesses for Yahoshua with courage, knowledge, wisdom, understanding and boldness. the Holy Spirit brought back everything to their remembrance as they recalled Yahoshua's teachings, miraculous works, his mission and who he is. They preached of their witness to his suffering, his death, the purpose 0f his ministry, his resurrection, and the commission he gave them. they were empowered to obey and fear God.
Act 4:33 And with great power gave the apostles witness of the resurrection of the Lord Jesus: and great grace was upon them all.
Act 5:30-32 30 The God of our fathers raised up Jesus, whom ye slew and hanged on a tree. 31Him hath God exalted with his right hand to be a Prince and a Savior, for to give repentance to Israel, and forgiveness of sins. 32 And we are his witnesses of these things; and so is also the Holy Ghost, whom God hath given to them that obey him.
Acts 10:39-42 39 And we are witnesses of 3) all things which he did both in the land of the Jews, and in Jerusalem; whom they slew and hanged on a tree: 40 Him God raised up the third day, and shewed him openly; 41 Not to all the people, but unto witnesses chosen before of God, even to us, 4) who did eat and drink with him after he rose from the dead.42 And he 5) commanded us to preach unto the people, and to testify that it is he which was ordained of God to be the Judge of quick (or the living) and dead.
1Pe 5:1 The elders which are among you I exhort, who am also an elder, and 6) a witness of the sufferings of Christ, and also a partaker of the glory that shall be revealed:
2Pe 1:16 For we have not followed cunningly devised fables, when we made known unto you the power and coming of our Lord Jesus Christ, but were 6) eye witnesses of his majesty.
Gal 4:4-7 4 But when the fullness of the time was come, God sent forth his Son, made of a woman, made under the law, 5 To redeem them that were under the law, that we might receive the adoption of sons. 6 And because ye are sons, God hath sent forth the Spirit of his Son into your hearts, crying, Abba, Father. 7 Wherefore thou art no more a servant, but a son; and if a son, then an heir of God through Yahoshua Messiah.
Q: How does He discover from their heart that they love His Son?
A: They show it by their obedience to His commandments that are written in the heart and mind of men. If He doesn't find this, then they are not worthy to be His sons.